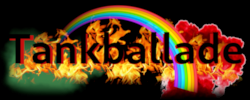 Tankballade
(If you experience errors, try downloading and running the game)
Controls
Player 1
Arrow keys to move and , to shoot.
Player 2
s, e, d, f to move and TAB to shoot.
Credits
Code & design by
Asger "RegsaGC" Horn Brorholt and Niels "Nilq" Nielsen Horn
Art
From Mindustry (https://mindustrygame.github.io/)
Engine
Godot (https://godotengine.org/)
Sound effects
EXPLOSION by Iwiploppenisse (from other sounds by Ljudmann, Themfish and HerbertBoland)
EXPLOSION12 by V-ktor
SFX-MOTOR-LOOP-001.WAV by henrikcederblad
EXPLOSION1 by LiamG_SFX
Comments
Log in with itch.io to leave a comment.
Wow. Very playable, but hard to master. You are as much a danger to yourself as to your opponent :-)